This Week at Stratton School- November 13, 2023
November 13th, 2023
Happening This Week:
Tuesday 11/14
Wednesday 11/15

Fire Prevention PK-4
Senior Citizen Luncheon

Friday 11/17
Upcoming Dates:
Wednesday 11/22- Friday 11/24

No School- Thanksgiving Break

Friday 12/1
Wednesday 12/6

Winter Music Concert/Celebration 6pm (Snow Date 12/7)
Other Updates/Pics
Stratton School Garden News:
Fun things happening in Stratton School Garden even though most of us have put our gardens to bed in Western Maine.
Garlic was put in the ground by third grade and is cozy in its straw pie waiting for spring, and snap peas were planted in the dome!
The long awaited addition of fish has arrived and the students are excited as we introduced 12 brook trout donated by Maine Department of Inland Fisheries and Wildlife. Students in 1st, 3rd, and 4th grade were invited to join the Middle School Garden Club in releasing the trout into the grow dome pond.
Last Thursday students were sure Mrs. Ray was building a spaceship in the hallway, but it was actually a hydroponic garden tower donated for the winter by Kate Dinsmore. Seeds planted Thursday are already sprouting!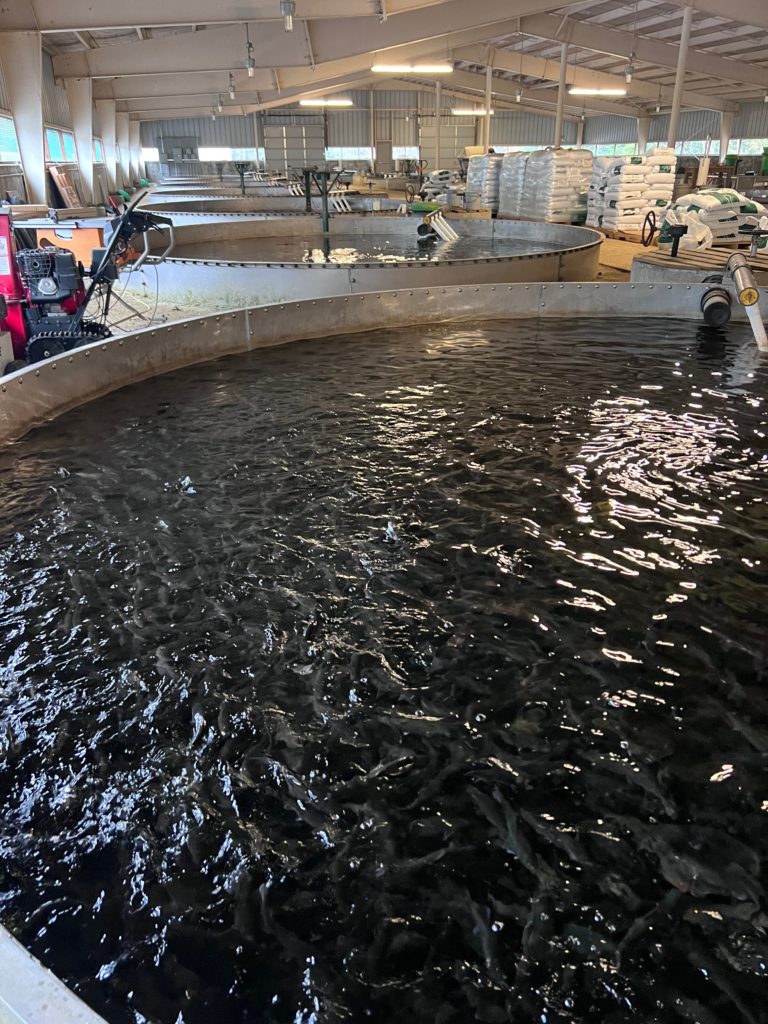 ---
Ski Skate News/Updates for 2024 Season
Stratton School will be participating in the Sugarloaf Ski Skate program again this season!
Ski/Skate will be on MONDAY afternoons for students in grades 1-8. This is a big change from past years as Stratton has gone on Fridays for many years. There are a few reasons for this change. One reason is that Sugarloaf and Perfect Turn ski school have gotten increasingly busier on Fridays over the past few years. Secondly, Stratton School has increased in student enrollment which means more students participating in the program. These two factors combined have made it challenging to provide enough coaches on Fridays for the Ski/Skate program. We are hopeful that in changing the day, our students will be able to have the best experience possible while skiing, snowboarding, ice skating, or nordic skiing.
Paper work with more details and sign up information will be coming home after Thanksgiving break.
Dates for the program will be:
January: 22, 29
February: 5, 12, 26
March: 4
---

Silver Graphics Art Fundraiser
SilverGraphics Fundraiser to benefit the Stratton PTC.
Support your school and get cool products featuring your child's art!
PreK-5th grade participating students will receive a Personalized Order Form on Thursday November 9th from SilverGraphics.
The on-line ordering deadline is 11/21 and deliveries will arrive 2-3 weeks after the order date, just in time for the holidays.
Any questions: email Mrs. Flight @ aflight@strattonschool.org
---
Art News: Scarecrow Project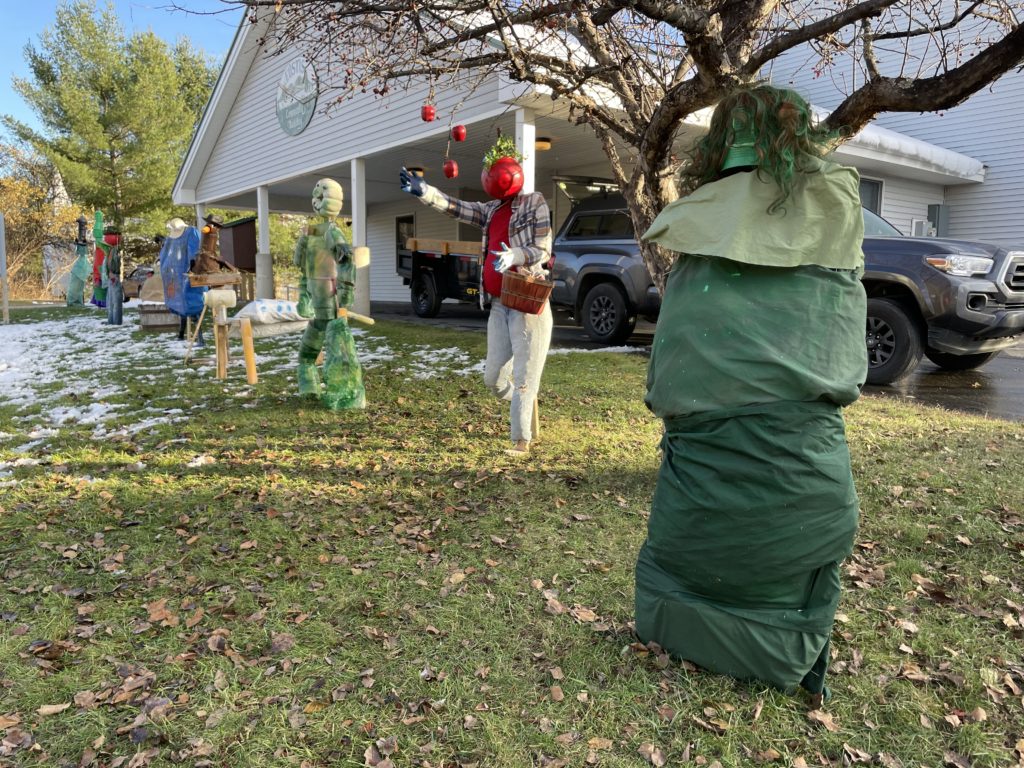 To tie in what has been happening with The Stratton School Garden and Nutrition program, this year our theme for the Scarecrow Project was Maine Harvest of the Month, a program through the Maine Department of Education to promote and encourage the use of local Maine food in school lunches.
Stratton School has been participating in this program since August and students have been consuming more local Maine food in their lunches. Produce comes from the school garden and is also procured from local farms.
Middle School students began the Scarecrow project at the end of September, with each group being assigned to a different month and the food associated with that month.
This project teaches the students so many skills from designing & execution to team work, problem solving, time management and the safe use of building materials. This project would not be possible without the guidance and inspiration from Peter Farnsworth and support from his dedicated group of volunteers which include: Emerson Dyer, Amy Richard, and Steve Joyal.
A huge thank you to all of our volunteers and to Stratton Lumber for donating the wood for this project. We are grateful to live and work in such a supportive community!
Scarecrows will be on display outside the Eustis Community Building through November 17, 2023.
~ Mrs. Flight & The Stratton School Middle School Students
---
Stratton PTC 25 Days of Christmas:
Stratton PTC is excited to once again be able to put on our 25 Days of Christmas raffle!
Tickets are $4 each or 4 for $10 and can be purchased from Stratton Elementary students, by messaging our Facebook page, online via Venmo, or at the town office (after election day).
A big thank you to our local businesses and community for their support!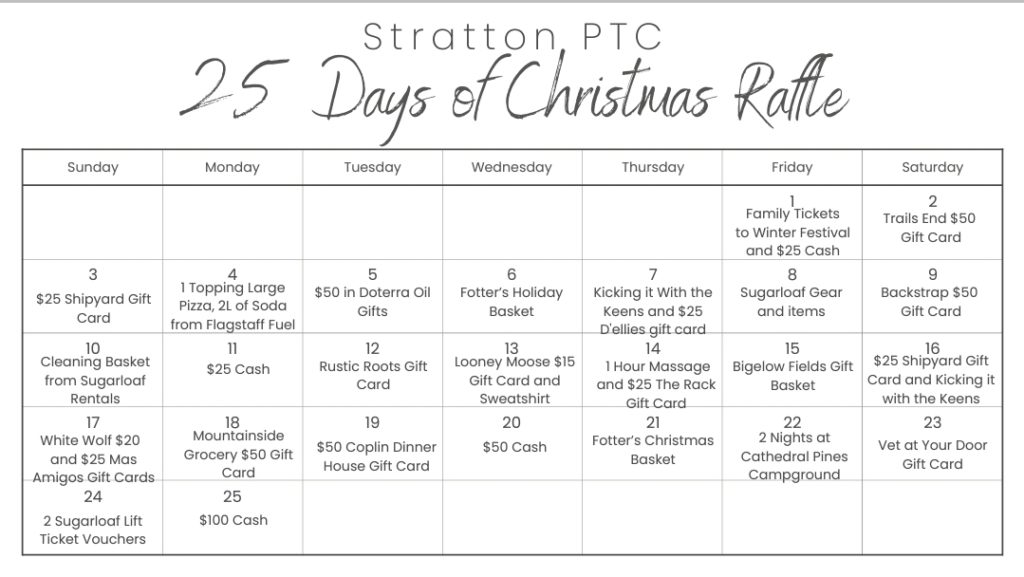 ---