Update to the Stratton School Food Emergency Program
Stratton School is providing breakfast and lunch for ALL students from Carrabassett Valley and Stratton communities for children ages 1–18 years old...
April 8 Letter from Mr. London
Update 4/8/20
Skiing Opportunities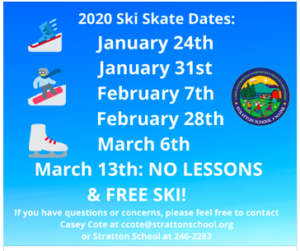 Casey Cote would love to have you as a chaperone during Ski Skate!!! It's a lot of fun and not a lot of time and you get a lift ticket. A win win all around!
Casey Cote contact info: ccote@strattonschool.org tel: 670-8355
Ski Skate is a wonderful opportunity for our students in grades 1 – 8 to get out on skis, snowboards and skates.
Sunday Ski Bus to Sugarloaf is available upon request, please call 207-246-2283