Skiing Opportunities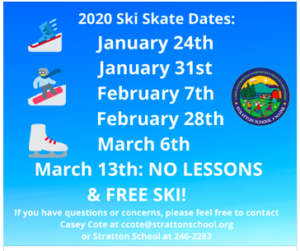 Casey Cote would love to have you as a chaperone during Ski Skate!!! It's a lot of fun and not a lot of time and you get a lift ticket. A win win all around!
Casey Cote contact info: ccote@strattonschool.org tel: 670-8355
Ski Skate is a wonderful opportunity for our students in grades 1 – 8 to get out on skis, snowboards and skates.
Sunday Ski Bus to Sugarloaf is available upon request, please call 207-246-2283