Photo Galleries
A visit with author  Michelle Houts 10/10/19
Rangeley Regatta September 27, 2019
Poetry Entries. Congratulations to Lydia Duquette for her first place win!
Harvest Dinner October 3, 2019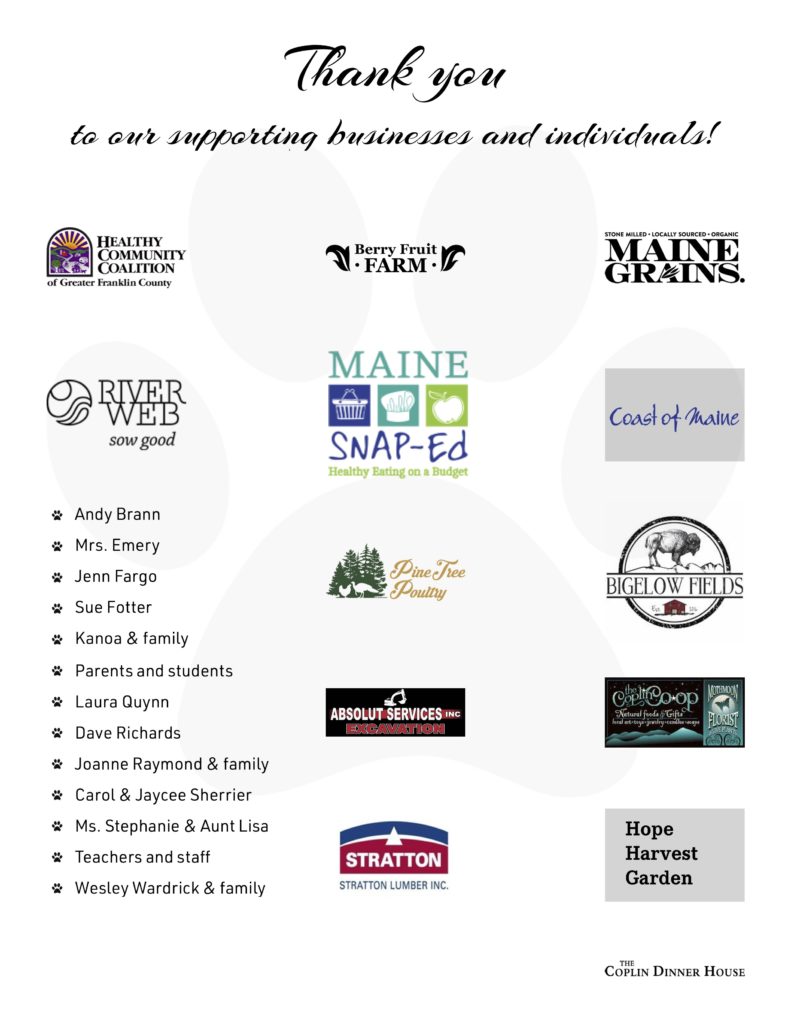 June 2019 8th Grade Graduation
Warm & Fuzzies!
Snowman Making fun with Franklin County Sheriff's Department!
2/2019
Christmas Concert 12/17/18
A trip to the Maine State Library & Legislature
A trip to "The Norlands" 2018
2nd Annual Harvest Pot Luck Dinner 2018 (Stratton School Students grew the food that was served, from seed. Additionally, there were "Maine Sourced" food donations made by the surrounding communities.)
Harvest Pot Luck Preparation 2018
Rangeley Regatta 2018
Fly Fishing practice 9/27/18
Parents Night 9/28/18
Recognizing June Parsons for over 4 decades of service to Stratton School
End of year sports & academic awards and recognition 6/15/18
Cribbage Tourney
3rd & 4th Grade Canoeing 6/13/18
8th Grade Promotion 6/13/18
Beach Day June 12, 2018
Field Day June 2018
Planting the gardens 6/8/18
Reid State Park Trip 6/7/18
Mrs. Lecander's Butterfly Unit Spring 2018
K-2 Celebration of Learning 6/6/18
Grades 5-8 Celebration of Learning & 3-4 "Me Museums" 5/24/18
Sugarloaf Cleanup May 2018
Winter Carnival 2018
Mrs. Lecander Career Unit
Ben Defroscia, Patrol Director from Sugarloaf, Jeff Lecander, Maintenance Technician and AJ Beaulier painter and business owner visited Mrs. Lecander's 2nd grade class to speak to the students about their work and training.
2/2018 Sugar Out Day
5th Grade skating with Mr. Brown's Phys. Ed. class
3rd & 4th Grades Skating with Mr. Brown's Phys. Ed. class
12/15/17 PreK – 4th grade Christmas Concert
11/7/17 The Hampstead Theater players presents "Robin Hood"!
10/25/17 Fairy Houses with Mrs. Simpson's class
Harvest Sampler 2017
10/21/17 Lady Bobcats go to the championship!
Fire Safety  9/18/17
Rangeley Regatta 2017
6/16/17 Step Up Day and End of School Awards Ceremony
6/14/17 Our K-4th graders enjoyed a fun and beautiful day on Flagstaff Lake today!
6/12/17 Field Day!!!
6/5/17
First grader, Lylah Schanz's drawing won first place for her age group in the "Be Tick Smart"program which is aimed at raising awareness about Lyme Disease. Her drawing will be hung at the Center for Disease Control (CDC) in the Augusta branch. Lylah was given a state park summer pass. Seventh grader, Noah Koenig won honorable mention for his drawing which will also be on display at the CDC. Both students won certificates. Congratulations!
6/3/17
We're proud of our Stratton School students that represented our school at the Junior Black Bear Solar Car Competition in South Paris, Maine over the weekend. These students banded together for a finish they can all be proud of:
Eli Fournier won 3rd place overall and 3rd place technical . His car name- Triple Crown.
Evan Downing, Noah Koenig and William DeFroscia's car won 2nd place overall.
Sugarloaf Clean up 6/2/17
Stratton School Garden Project Spring 2017
4th – 8th Grade Portfolio presentations and Art Show 6/1/17
Mrs. Simpson's Reader's Theater 6/1/17
Mrs. Emery's Kindergarten Tea 6/1/17
Mrs. Lecander's Poetry and Pie 6/1/17
Learn to golf 5/15/17
Bike to school day 5/10/17
Mrs. Lecander's class Biography Fair
3/29/17 Laura Qynn from Healthy Community Coalition helped us jumpstart our school garden project!
3/27/17 A visit from the Men's US Ski Team!
3/24/17 The Pepin's visited our school to treat everyone to maple taffy!
3/24/17 Making homemade butter for pancakes and maple syrup in kindergarten.
3/24/17 A lesson about King George and "Taxation without Representation" in Mrs. Beers' 4th grade class. Students were given "money" (Froot Loops) and made to pay "taxes" in Froot Loops for things like: being left handed or having laced shoes and so on.
SAST (Sugarloaf Area Ski Team)  2016 – 2017 Season.
3/16/17 Middle school Tubing at Black Mountain
PUBLIC SPEAKING 3/8/17
3/7/17 Physical Education with Mr. Brown. Ice Skates were generously donated by the Carol M. White Physical Education Program (PEP) Grant.  Skating rink was generously donated by the Brochu family.
BASKETBALL ASSEMBLY 3/3/17
3/2/17 Mrs. Simpson's Reader's Theater:
3/2/17 Mrs. Lecander's student presentation of the State of Maine:
March 2, 2017 Dr. Seuss's Birthday Celebration!!